Malaysian Gen Y leads the way in overseas travels
01/27/2014
Malaysia's Gen Y are leading the way in leisure overseas travel, making an average of five overseas trips in the past two years compared to only three overseas trips by those in older age groups, according to Visa's latest Global Travel Intentions Study 2013.
The study further revealed that the top travel destinations for Malaysian Gen Y (those within the 25 to 34 year old age group) were Singapore, Taiwan and Thailand. In terms of the Gen Y's future travel plans, Korea came up as the most desired travel destination while older Malaysians (aged 35 and above) ranked Australia as their preferred choice.
Malaysian Gen Y tend to spend more time on planning their vacation to ensure they get the most out of their holiday, with 81 percent of them planning for their vacation 14 weeks ahead. Hotel booking websites such as Agoda.com, TripAdvisor, Hotels.com and Booking.com were the most used online resources for planning.
The quality of hotel accommodation proved to be a priority for Gen Y travelers with the majority of them (44 percent) choosing to stay at four-star or higher rated hotels or resorts, compared to other travelers – the 35 to 44-year olds (46 percent) and those aged 45 and above (34 percent) – who preferred one to three-star hotels.
Stuart Tomlinson, Visa Country Manager for Malaysia said: "While overseas travel traditionally was the domain of the older age groups, our study revealed that today's younger generation is travelling overseas much more than any other age-group. This is largely due to the increased affordability and wider choices of overseas travel brought on by the many budget airlines and travel aggregator sites.
"Gen Y's tech-savviness has also been a key part of this trend, allowing them to make full use of the internet to search for the best airfares, room rates, and travel packages for their overseas holidays, and to easily book online with their Visa cards".
Leisure trips taken (in past 2 years)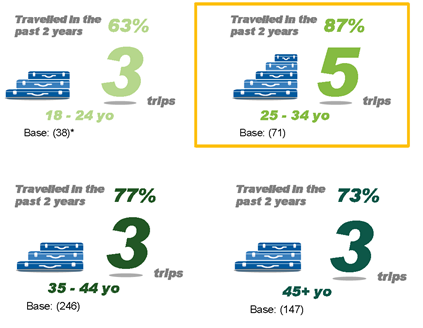 ---

About Visa
Visa is a global payments technology company that connects consumers, businesses, financial institutions, and governments in more than 200 countries and territories to fast, secure and reliable electronic payments. We operate one of the world's most advanced processing networks — VisaNet — that is capable of handling more than 47,000 transaction messages a second, with fraud protection for consumers and assured payment for merchants. Visa is not a bank and does not issue cards, extend credit or set rates and fees for consumers. Visa's innovations, however, enable its financial institution customers to offer consumers more choices: pay now with debit, ahead of time with prepaid or later with credit products. For more information, visit www.corporate.visa.com.
About Visa's 2013 Global Travel Intentions Study
The Visa Global Travel Intentions Study 2013 was commissioned by Visa to Millward Brown. Fieldwork was conducted between November and December 2012. It was based on online and offline surveys with 12,631 travelers aged 18 and above, across 25 markets in Asia Pacific (Australia, China, Hong Kong, India, Indonesia, Japan, Korea, Malaysia, Singapore, Taiwan, Thailand), Europe (France, Germany, Russia, UK), Africa & Middle East (Egypt, Kuwait, Morocco, Saudi Arabia, South Africa, UAE), and the Americas (Brazil, Canada, Mexico, USA).
* For copyright information on the content hosted on this page, please click here.