Visa Launches 'Where You Shop Matters' Campaign to Help SMEs Go Digital and Encourage Malaysians to Support Local Small Businesses
08/25/2020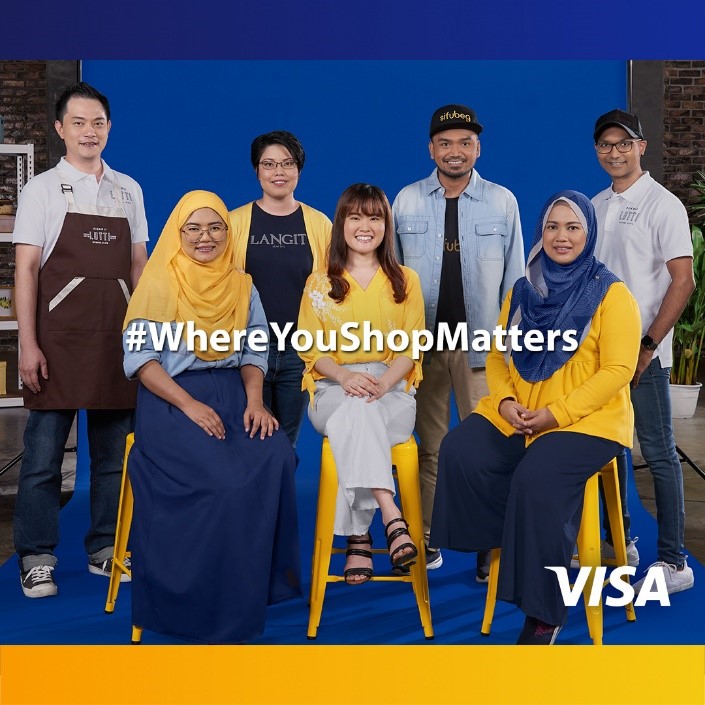 More than 98 percent of Malaysian consumers are willing to shop at local retailers to support small business recovery1
Visa, the world's leader in digital payments, has launched Where You Shop Matters, an initiative that encourages consumers to support their local businesses, while helping SMEs go digital following the onset of COVID-19. The introduction of Where You Shop Matters is aligned to the Malaysia government's "Buy Malaysian Products Campaign" that was launched last month and Cuti-Cuti Malaysia campaign to encourage domestic travel.
Where You Shop Matters is an initiative is part of Visa's broader small businesses strategy and follows commitments the company has made to support 10 million small and micro businesses in Asia Pacific. In addition, the Visa Foundation committed USD210 million to support small and micro businesses and immediate COVID-19 emergency relief earlier this year.
Ng Kong Boon, Visa's Country Manager for Visa Malaysia, says: "We introduced Where You Shop Matters to rally Malaysians to support our small businesses in the country. The impact of COVID-19 for these businesses, along with shifting consumer behaviours to eCommerce, reinforced the need for Visa to launch this initiative. We understand that taking their business online can be a daunting prospect for many SMEs who might not know where to start. In Malaysia, our focus is to help these small businesses embark on this digitalisation journey to start and grow their online presence. We are excited to offer SMEs an eCommerce toolkit, together with Visa commercial offers to help them start, manage and grow their online storefronts."
"To further support local retailers, Visa will be featuring hundreds of local brands in Malaysia on our website to encourage Malaysians to purchase from homegrown retailers during this period of difficulty. This initiative supports the national "Buy Malaysia Products Campaign" launched by the Malaysian government. We are heartened that 98 per cent of Malaysians have indicated that they are willing to shop at local retailers to support their business recovery," added Kong Boon.
Datuk Musa Bin Hj Yusof, Director General Tourism Malaysia said "We are proud to expand our long-standing relationship with Visa as we work towards recovering and boosting the nation's economy through local tourism and brands. Since the interstate travel ban was lifted, we have seen an increased appreciation for the local tourism industry. Through Visa's variety of offerings for cardholders, as well as local entrepreneurs, we believe we will continue to see an enhanced patriotism among Malaysians for locally made goods and services."
'Where You Shop Matters' is a timely campaign that complements the ongoing PENJANA Shop Malaysia Online initiative and the PENJANA Micro, SMEs (MSMEs) E-Commerce Campaign that was aimed to assist in the recovery of the country's economy. Moreover, the impact of the COVID-19 pandemic has been the motivation for a large number of local MSMEs and businesses to accelerate eCommerce adoption. I am confident that this campaign will promote more digitally-powered businesses, and at the same time help catalyse more high-value digital jobs for the nation," said Surina Shukri, CEO of Malaysia Digital Economy Corporation (MDEC).
Based on the recent Visa study conducted on Malaysians, almost half of Malaysians intend to shop online more often.2 In addition, 83 per cent of Malaysians believe it is important for small businesses to have an online presence.3 As part of the Where You Shop Matters initiative, Visa has partnered with several eCommerce enablers such as BigCommerce, EasyStore, SiteGiant and StoreHub to encourage and help SMEs begin their journey to kickstart their businesses online.
To incentivise small businesses to kickstart their digital journey, Visa's partners will be providing eCommerce starter packages including waivers on monthly subscriptions for small businesses who may be setting up their businesses online for the first time. In addition, there will be a series of Visa commercial offers that small businesses can utilise to grow their online presence and manage their businesses digitally including advertising support and business office tool.
"We encourage small businesses to embrace digital transformation and bring their businesses online. Apart from providing the right business automation for EasyStore merchants, we are glad to partner Visa to open up new opportunities for more merchants to sell across Malaysia and worldwide effortlessly," said Frost Chen, Chief Technology Officer for EasyStore.
"We are excited and pleased to partner with Visa in a shared objective to reach out and empower more SMEs to digitalise their business. Over the years, we saw the challenges that SMEs have faced to start their businesses online. With this initiative, SMEs will now have more opportunity to transition into the eCommerce industry. We believe this is an essential step to provide small businesses the tools and support they need to grow digitally and ultimately, accelerate the digital transformation in Malaysia, "said Stanley Lim, Chief Executive Officer for SiteGiant.
"The StoreHub Business Program is one of our ongoing initiatives to add value to our merchants as we are committed to helping them succeed. We are pleased to partner Visa in this program and continue supporting local F&B businesses." Said Wai Hong Fong, Chieftain and Co-founder at StoreHub.
To find out more, please visit https://www.visa.com.my/run-your-business/small-business-tools/whereyoushopmatters.html
1 YouGov Study commissioned by Visa in July 2020 on 1,092 Malaysians aged 18-55 years of age.
2 YouGov Study commissioned by Visa
3 YouGov Study commissioned by Visa
About Visa Inc.
Visa Inc. (NYSE: V) is the world's leader in digital payments. Our mission is to connect the world through the most innovative, reliable and secure payment network - enabling individuals, businesses and economies to thrive. Our advanced global processing network, VisaNet, provides secure and reliable payments around the world, and is capable of handling more than 65,000 transaction messages a second. The company's relentless focus on innovation is a catalyst for the rapid growth of digital commerce on any device for everyone, everywhere. As the world moves from analog to digital, Visa is applying our brand, products, people, network and scale to reshape the future of commerce. For more information, visit  About Visa, visa.com/blog and @VisaNews.