Visa Wins Gold Award – Putra Brand Awards 2019
10/01/2019
Visa has been announced as the Gold Award winner - People's Choice under the 'Banking, Investment and Insurance' category at Putra Brand Awards 2019. This is an award traditionally won by financial institutions and insurance companies, making Visa the first and only payments technology company to win in this award category.
Ng Kong Boon, Country Manager of Visa Malaysia, who accepted the award said, "At Visa, our brand vision is to be the best way to pay and be paid, for everyone, everywhere. We are focused on creating seamless and secure payment experiences for consumers and are heartened that Malaysians have given us their vote of confidence. This award is testament to how we have worked with our partners to drive digital payments usage in the country. With Malaysia's payment landscape rapidly evolving, Visa is at the forefront of innovation and expanding digital payments acceptance in the country.
"We will continue to work closely with Bank Negara Malaysia, financial institutions, merchants and other partners in the ecosystem to provide secure, convenient and seamless payment experiences for Malaysians."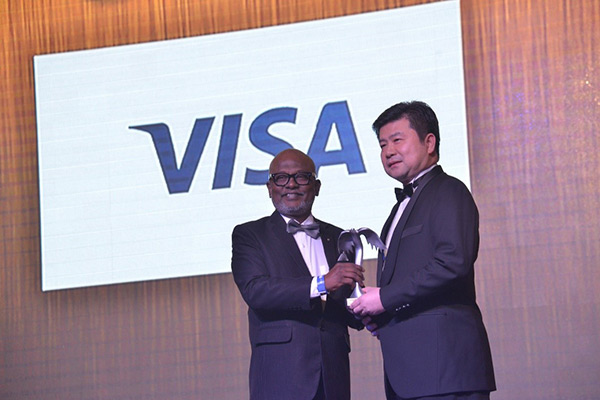 Ng Kong Boon, Country Manager of Visa Malaysia receiving the Gold Award at the Putra Brand Awards 2019 Award Ceremony

The Putra Brand Awards recognise and reward local and international brands based on a consumer preference survey held nationwide each year. This year's survey collected a total of 25,000 responses from almost 9,000 Malaysians, who ranked their favourite brands across various categories. The award is endorsed by the Malaysian External Trade Development Corporation (MATRADE).
---
About Visa
Visa Inc. (NYSE: V) is the world's leader in digital payments. Our mission is to connect the world through the most innovative, reliable and secure payment network - enabling individuals, businesses and economies to thrive. Our advanced global processing network, VisaNet, provides secure and reliable payments around the world, and is capable of handling more than 65,000 transaction messages a second. The company's relentless focus on innovation is a catalyst for the rapid growth of connected commerce on any device, and a driving force behind the dream of a cashless future for everyone, everywhere. As the world moves from analog to digital, Visa is applying our brand, products, people, network and scale to reshape the future of commerce. For more information, visit www.visa.com.my.